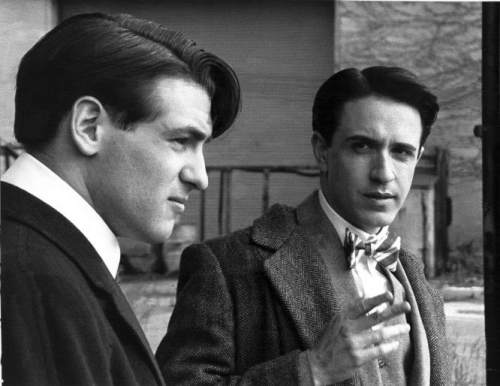 "Mezipatra brings queer cinema to Prague screens"
Mezipatra offers Czech audiences celebrity guests and a diverse array of feature and short films in the country's unique queer film festival
The 12th queer film festival Mezipatra 2011 is underway in Prague following its initial week in Brno with a diverse program ranging from cutting edge work to some fairly well-known Hollywood hits (click here to see the festival trailer). With directors Todd Haynes and Tom Kalin as guests it will present a marker of how far New Queer Cinema has come over the past two decades.
When the festival started out in Brno in 2000, it served the basic purpose of providing a venue to screen gay and lesbian themed films, which were otherwise very difficult to see. Things have changed today, but Mezipatra has grown into a full-fledged film festival with international guests, a competition and retrospectives. This means that choosing films for the current festival is a different process than it was at the outset.
"The movies have to be progressive, interesting and go beyond the simple formula that they have gay or lesbian story and characters and that's enough. They have to have interesting stories, characters and something we haven't seen yet, and also an artistic vision," Mezipatra festival programmer Lucia Kajánková told Czech Position.
The festival has a balance between the cutting edge and more conventional dramatic films. "One thing that distinguishes Mezipatra is this provocative, queer-oriented and experimental openness to new forms while still keeping it a fun action for the community, so it's not closed in some kind of intellectual, art-house bubble," she said.
Another feature Kajánková pointed out was that their polling has revealed that half of Mezipatra's Prague audience is straight, which is unusual for a queer film festival. "We are very happy about it because we are bringing queer out into the open. It's not some ghettoized culture, and it's attracting attention from a diverse group of people just because we are showing fantastic movies."
Some of the films have already become mainstays in the gay cinema canon as well as in world cinema overall. Director Sally Potter's adaptation of Virgina Woolf's short novel "Orlando" helped catapult actress Tilda Swinton to fame for her portrayal of the story's androgynous main character.
A more recent feature "Handsome Harry" enlists a cast of established actors to such asJamey Sheridan, Steve Buscemi, Campbell Scott, John Savage and Aidan Quinn to dramatize a story of attempted redemption among a group of Vietnam veterans involved in a brutal beating based on suspicion of homosexuality. Tom Tykwer's "3," which came to Prague with the Days of European Film festival, is another noted recent release in the lineup.
New Queer Cinema
Yet perhaps the films that exemplify the distance that the New Queer Cinemamovement has come from its birth in the early '90s to today are those of two of the festival's most prominent guests and subjects of its retrospectives, Todd Haynes and Tom Kalin.
Because the theme of this year's festival is time travel, the films of Haynes and Kalin offer a kaleidoscope of eras of gay history, whether it is the glam-rock '70s of Haynes "Velvet Goldmine" or his take on '50s America in "Far From Heaven," or Kalin's look at the infamous Leopold and Loeb murder case from the '20s in "Swoon" or his mid-century look at a murderous, incestuous family relationship in "Savage Grace."
©Vimeo 'Mary Marie' trailer from Alexandra Roxo (refresh browser if video isn't visible)
Both directors will be available for numerous Q&A sessions after the screenings of their films and on Saturday (Nov. 12) at 2:30 p.m. Haynes will be presenting a masterclass (FAMU, Smetanovo nábřeží 2, Prague 1) in which he will discuss his work accompanies by the screening of selected clips. The talk will be hosted byVariety film critic Boyd Van Hoeij and is open to the public. Kalin will also be serving on the competition jury.
The final frontier
The short films are a major part of the festival and come grouped in enticingly titled groups. The Bizzare, A Musical And Cinematic Dreams is a group of gay films that includes "Foucault's Room," an "evovative recreation" of a real-life incident in 1958 in Poland when French philosopher Michel Foucault was caught with a young boy. In the Norweigian musical "Baldguy," a Jonas tells his parents he made out with a man. They are shocked — not because it was a man but because the man was bald.
The festival also takes the opprtunity to give queer reading of films usually thought of as straight. There will be Czech-language lectures on queer readings of Czechoslovak films of the 1950s to 1970s as well as on the phenomenon of gay-themed fan films of the TV series Star Trek. The film being screened in this aspect is František Vláčil's classic "The Valley of the Bees" (Údolí včel), in which the story of a bond between two crusaders is given distinctly different look.
Documentaries also feature in the program, with "Lost in the Crowd" following transgender teenagers on the streets of New York City over a period of eight years. Director Rachid B's "Wild Sky" on the other hand uses the documentary form for more personal purposes, recounting his own journey from Morocco to Europe to New York and his coming-of-age experience of his homosexuality.
Mezipatra
www.mezipatra.cz/en
Brno: last day is Nov.11
Art & Bakala cinemas
Prague: through Nov. 16
Lucerna & Světozor cinemas
Ostrava: through Nov. 17
Plzeň: Nov. 22-26
Olomouc: Nov. 25-29