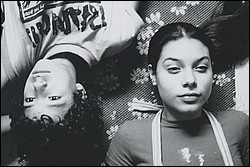 Temporada de patos / Duck Season
Mexico 2004
Spanish with Czech subtitles, 90 minutes, 35 mm
Writers: Fernando Eimbcke, Paula Markovitch
Director: Fernando Eimbcke
Cast: Enrique Arreola, Diego Catańo, Daniel Miranda, Danny Perea...
The first feature-length movie by Mexican director Fernando Eimbcke is black and white, slow, almost without any story and takes place in a small flat. Nevertheless it's a funny and exciting movie. The delivery boy has exactly thirty minutes for the deliverance of pizza for two boys. He is late, but only a few seconds, and insists on being paid. Meanwhile we encounter themes like pubescence, parenthood or the boundary between friendship and homosexuality. Fernando Eimbcke got the award for best director at the Thessaloniki Film Festival.
THX: Aerofilms
Scala 27.10. 18:00
Svetozor, small screening hall 7.11. 22:00