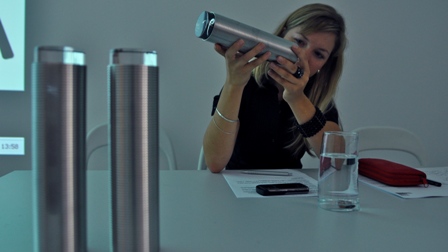 The Student Jury judges short films and gives the Student Jury Award for Best Short Film.
Kristýna Dufková

She was born on 15th February 1988. She finished her studies of the Department of Production at FAMU and now studies the Scriptwriting and Dramaturgy there. The movie Baba that she produced in 2008 obtained the main prize for school movie - Cinéfondation Section of the Cannes Film Festival. Since 2010 she has been cooperating with the major czech company focusing on animation called Maurfilm.

Magdalena Křížová

Magdaléna Křížová is a twenty-two-year-old journalism student from Brno, a presenter on student radio R and a self-proclaimed critic of more than just theatre and film. Maybe she's a little crazy, but she's still entertaining. She loves reindeer and the seventies, she hates boiled carrots and human stupidity.

She's perhaps best summed up by the line from the Marta Kubišová song Magdaléna: "She's no saint, she's just a woman."

Jan Černík

Is studying the master's program of film studies and philosophy at Palacký University in Olomouc. His research interest is non-fiction film in Czechoslovakia up to 1945. Amongst other things he co-organises the Exhibition of Non-Traditional Film, which deals with nudity and sexuality in art and the media.

Richard Čejka

Student of Palacký University in Olomouc. He mainly studies languages, economics, and law. Following his university studies, he works, translates, and cooperates on the preparation of several festivals and conferences (Academia Film Olomouc, Exhibition of Animated Film Olomouc, Echoes Mezipater Olomouc; Chinese Investment Forum). He enjoys travel and getting to know new places and cultures. He reads extensively, and in the evening he watches films, series, and theatre plays. He is fascinated by music and loves silence.