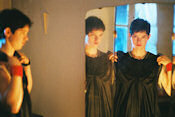 This special internet event offers a retrospective of the great movies which were awarded prizes by our professional juries in previous years. The winning films can be seen for free from the 16th September until the end of the festival at www.ceskatelevize.cz/mezipatra. The winners are the legendary skinhead Oi! Warning, Woody Allen - like lesbian comedy Do I Love You?, Bear cub about gay fatherhood, Whole New Thing about the fear of paedophilia above all else, the Czech movie Pusinky and the trans movie My friend from Faro. A selection of the shorts shown at last year's Mezipatra complements the award-winning films.
The films previously awarded at Mezipatra are avaiable for free in the form of streaming until the end of the festival. The films can only be played from whithin the Czech Republic. One feature film is added each Wednesday at 12.
The awarded films are accompanied by a selection of 22 short films from the last  edition of Mezipatra.