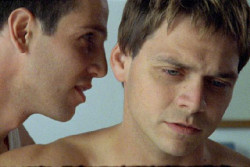 Ha Buah / The Bubble
Israel 2006
HEB + CZ tit, 117 min, DVD
Writer: Gal Uchovsky, Eytan Fox
Director: Eytan Fox
Cast: Ohad Knoller, Yousef 'Joe' Sweid, Daniela Wircer, Alon Friedmann, Zion Baruch, Zohar Liba, Oded Leopold, Ruba Blal etc.
Three young flatmates from Tel Aviv, two guys and a girl, try to put aside political conflicts and focus on their lives and loves, thus living in an escapist "bubble". Headstrong Lulu works in a boutique, flamboyant Yali manages a trendy café, and music store clerk Noam spends his weekends serving in the National Guard at checkpoints. When Noam falls in love with Ashraf, a young Palestinian, they decide to help Ashraf staying illegally in Tel Aviv. They dress him in modern Israeli garb, give him a Hebrew name, put him to work in Yali's café and celebrate their peaceful coexistence at a beach party. But their utopia is shattered by the political and social realities of the Middle East.

Brno: 29.10. – 18.00 – Art, big hall
Praha: 9.11. – 18.00 – Světozor, big hall