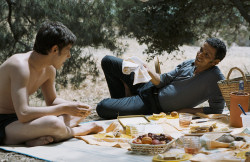 Svědkové / Les Témoins / The Witnesses
France 2006
FR + CZ tit. + EN tit., 115 min., 35 mm
Writer: Laurent Guyot, André Téchiné, Viviane Zingg
Director: André Téchiné
Cast: Michel Blanc, Emmanuelle Béart, Sami Bouajila, Julie Depardieu, Johan Libéreau, Constance Dollé, Lorenzo Balducci etc.
Summer 1984. Twenty years old Manu arrives in Paris looking for a job and sharing a cheap hotel room with his sister Julie. He strikes up a joyous and chaste friendship with extroverted and cultivated Adrien, a wealthy gay doctor in his early fifties, who opens Manu's eyes to a different way of life. During a boat trip Adrien introduces Manu to Sarah and Mehdi, a happy young couple who have just had their first child. An unplanned love affair, the onset of the AIDS epidemic displayed by the media and the collective imagination as a shameful, modern-day plague will shake up the tranquillity of their individual destinies. Each of them becomes a protagonist in - and witness to - a contemporary tragedy, where those who don't die may emerge stronger, but not undamaged.
THX:



Brno: 2.11. – 22.30 – Art, big hall
Praha : 10.11. – 22.30 – Světozor, big hall