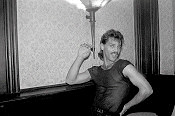 Photographs from 1983 - 1985

T- Club was, until the beginning of 90s, a renowned night club in Prague. It was in an underground area in the center of the city but hidden; one of two half-official gay clubs in Prague.
"The darkest place is under the candlestick" - that's what the "world" where I suddenly found my-self seemed to me. A Prague, Czechoslovakian, Eastern European and foreign gay community used to meet here in a family atmosphere. Sardonic laughter and real tears. Profound talks and superficial coquetry. One-night relationships and life-long love. Handsome young men, beautiful young women, twisted "B-listers" and respectably looking gentlemen who whisked from their fami-lies. Women football players, waiters, taxi drivers and probably also secret policemen. Shop assis-tants from the drug store, a postmaster, and a train-gang boss. Girls from Yalta used to finish their night work here. The clientele of two homosexual clubs in Prague was almost stable. Even those who "belonged to the family" could perform. Peeping Toms were not welcome, the bouncer didn't let everyone in. Down there everyone knows everyone. Age is not an illness, age is tolerated. - In-clined arch, Mrs Bulbous, Glasswoman, Lemon, Rattle bag, Backpack, Mrs. Bleble - all these were here almost every day...
I could never really photograph a true "documentary". There were still a lot of those who wished to protect their "everyday" identity and they didn't like to be associated with T- club. And so T- Club on the photographs seems to be a place of "everlasting carnival".

BRNO: 1.11.-7.12. | Galerie Artistů, Kino Art, Cihlářská 19
Varnishing day 1.11. v 18:15