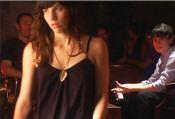 Set of predominantly lesbian short films
1977
Dive
Pepita, Laura, Kitty and the artificial uterus
Alpha
A little tiger
Illuminate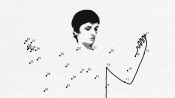 1977
1977
1977
Great Britain, 2007
8 min
Director: Peque Varela
A playful and amusing animation about the coming of age of a little girl in a small town, about her search for and discovery of her true identity.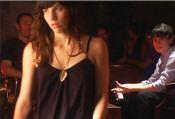 Dive
Dive
Střemhlav

USA, 2008
11 min
Director: Larin Sullivan
A date in a New York night, on which a young girl tries to rap her way to the heart of her new love interest. But directness can crash with sudden complications and problems of courage.
Pepita, Laura, Kitty and the artificial uterus
Pepita, Laura, Kitty et l'utérus artificiel
Pepita, Laura, Kitty a umělá děloha


France, 2007
17 min
Director: Caroline Fournier a Nathalie Haziza
Pepita and Laura, two girls in love, happily live their lives in a caravan. However, they long for a child and decide to ask an experimental scientist, Kitty, to fulfill their dream in this crazy and colorful comedy.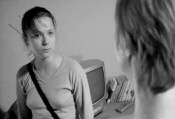 Alpha
Alpha
Alfa

Israel, 2007
12 min
Director: Dana Goldberg
At the close of an intimate night between two women, who are separated by more than just a fundamental difference in age. A strained and at the same time brutally open conversation treads the line between harmony and the decay of their love.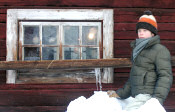 A little tiger
An liten tiger
Malý tigr
Sweden, 2006
29 minut
Director: AnnaCarin Andersson
Simon has two mums, has just moved to a village which has its own rules of appearance. Simon's moms kiss when the neighbors aren't watching. And they argue how much it is worth it to appear like the others. Maybe Simon's friend has an answer..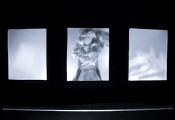 Illuminate
Illuminate
Osvětlit

Great Britain, 2007
19 min
Director: Nataly Lebouleux
A Doll is walking down the Freak Show and in this black-and-white stylized  stop-motion animation film discovers who she really is. A surreal initiatory fairy-tale about sexuality and identity. 
BRNO: 1.11 | 20:45 | Bakala - PROGRAM CHANGED
PRAHA: 7.11 | 15:30 | Světozor
PRAHA: 10.11 | 17:45 | Lucerna
PRAHA: 11.11 | 13:15 | Světozor
BRATISLAVA: 19.11. | 20:30 | FK Charlie centrum
ČESKÉ BUDĚJOVICE: 4.12. | 18:00 | Divadlo SUD