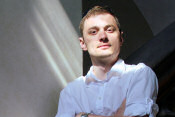 Mezipatra number nine.
Some people go up, some people go down. Never in the history of Mezipatra have we come this close to the meaning of the festival name: Mezzanine. The main thematic focus is "life after…" – after sex change, diagnosis, loss of partner. The theme is not dark, the characters of this year's films are heroes and heroines in the inconspicuous meaning of the word; they are characterised by a skill so vital in the histories of minorities: ability to survive.
Life after… is a challenge to mainstream filmmaking. Think of Philadelphia, Boys Don't Cry or Brokeback Mountain – gay characters are always fated to die, as if the massage of Hollywood was that queers stand no chance of happy endings.
In connection to the main focus and true to our intention to present varied representations, we invited people living with a physical handicap to participate in the festival trailer. We would like to bring attention to the fact that the dangerous concept of "normality" excludes "otherness" from the public space on many criteria, sexuality being just one of them.
The traditional part of Mezipatra programme is a retrospective profile. This year, we pay tribute to an outspoken critic of "normality", taboos and silencing hard issues, the eternal German "pervert" (his own label), Rosa von Praunheim.
The non-existence of Hollywood happy endings, portrayal of AIDS, categories of non-normality and also links of queer theory and practice to physical "disability" will all be subjects to debates which we prepared in the off-programme.
Just like every year, the programme makes space also for uncomplicated joy. Frivolous films have been assembled in the slot Midnight Pop. The cheekiest of these films took scenes from classic pseudo-lesbian made-for-straights porn to rework them into entertainment for nowadays lesbians.
I wish you diverse Mezipatra.
Aleš Rumpel
festival director