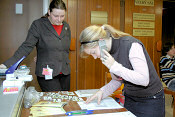 The Mezipatra festival team are looking for volunteers. We need help both prior to and (mainly) during the festival.
In Brno, the festival dates are 31st October - 8th November, in Prague 6th - 12th November.
We need help particularily with:
distribution of flyers (mainly before the festival dates)
setting up the festival venues and wrapping them up
selling festival merchandise at the cinemas
pick up and delivery of various material whithin the city
ushering in festivalgoers, handin-out audience surveys etc.

We offer:
opportunity to become a part of the largest GLBT event in the region
practical experience in NGO sector
friendly team
free tickets
If you want to join us, write to This email address is being protected from spambots. You need JavaScript enabled to view it.  (please specify your city).
Thank you!