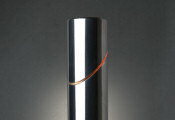 During the Closing Night, winners of the main and short competitions and the audience vote were published.
The honorary of the Closing was  Christof Vorster, the director of the closing film Hilde's Reise. 
Awarded Films: 
The Main Jury Award fot he Best Feature Film went to To Faro (Mein Freund aus Faro; 2008, Nana Neul).
Jury statement: for an authentic and cinematographically strong story about finding identity in the challenging working-class environment of todays' Germany. Anjorka Strechel's performance as Mel is outstanding and Nana Neul's first time directing is superb.
Filmmaker's statement: "I enjoyed the friendly communicative atmosphere and the wonderful audience at the festival and I am very happy that the jury picked TO FARO, my first movie about the first love and how it changes your life, if you are brave enough to let it happen. For me it was important to make an optimistic movie about a dramatic topic and this award tells me, that I did not fail. Thank you for that and thank you GOETHE INSTITUT for the opportunity to have been part of this lovely festival. Thank you all says Nana from Cologne!"
The Student Jury for the Best Short Film went to Wrestling (Braedrabylta wrestling, 2007, Grimur Hakonarson).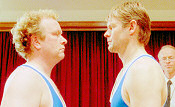 Jury statement: Three seemingly ordinary qualities make the Grimur Hakonarson's film a unique cinematographic piece: simplicity, straight-forwardness, clarity. We are fascinated by the contrast in which this film is rooted: the "drama" of a gay relationship, the inner conflict of the characters who are gathering the courage to break the barriers of a conservative community and also of the prison of their everyday lives is told peacefully and without pathos. Braedrabylta is a sensitive, balanced piece of art which, through the beauty of images and nostalgia of music, brings universal message: it is not important that a man loves a man, love is what counts.
Filmmaker's statement: "I am so happy that my film won Mezipatra. It really means something to me because I was living in Zizkov and I studied at FAMU from 2003-05. Aero cinema was my TV, I didn´t have any TV in my house. I also remember going to Mezipatra Festival and watch films. It was my first gay & Lesbian film festival and it deffinately has inspired me to make this film. Too bad that I can´t be with you now. Thank you very much. Grimur"
The Audience Award for Best Film went to Breakfast with Scot   (Breakfast with Scot, 2007, Laurie Lynd).