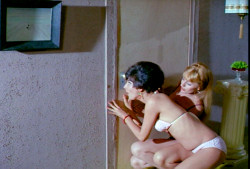 Báječný! Příběh teplého filmu / Fabulous! The Story of Queer Cinema
USA 2005
EN + CZ tit., 81 min, DVD
Writer: Lisa Ades, Lesli Klainberg
Director: Lisa Ades, Lesli Klainberg
Cast: Todd Haynes, Rose Troche, Gus Van Sant, Christine Vachon, Alan Cumming, Donna Deitch, John Cameron Mitchell etc.
The story of gay and lesbian cinema is closely related to the world surrounding it, and the use of popular culture is a backdrop against which the film examines important cultural, political and social moments and movements that intersect with gay life. For most of the past century, images of gays & lesbians in American culture were limited, stereotypical and among the most taboo subjects. Today, queer images are everywhere. The documentary charts the emergence of gay and lesbian cinema from the experimental films of the 40's and 50's to the AIDS themed films of the 80's, to the "New Queer Cinema" in the 90's, and the cutting-edge filmmakers of today.

Brno: 29.10. – 18.30 – Art, small hall
Praha: 9.11. – 22.30 – Světozor, big hall