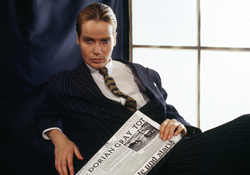 Dorian Gray v zrcadle bulváru / Dorian Gray im Spiegel der Boulevardpresse / Dorian Gray in the Mirror of the Popular Press
Germany 1983
DE + EN tit. + CZ tit., 150 min, 35 mm
Writer: Ulrike Ottinger
Director: Ulrike Ottinger
Cast: Veruschka von Lehndorff, Delphine Seyrig, Tabea Blumenschein, Toyo Tanaka, Irm Hermann, Magdalena Montezuma, Barbara Valentin etc.
This striking odyssey into surrealism stars Delphine Seyrig as a Dr. Mabuse-like head of an international press organization who concocts nefarious schemes to increase circulation. Women take over roles traditionally awarded men including the 60's model Veruschka von Lehndorff in the role of the narcissistic Dorian Gray.
THX:


Brno: 28.10. – 20.30 – Art, big hall
Praha: 6.11. – 21.00 – Světozor, small hall