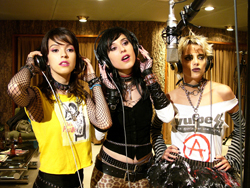 El Calentito / El Calentito
Spain 2004
ES + CZ tit., 90 min, DVD
Writer: Juan Carlos Rubio, Chus Gutiérrez
Director: Chus Gutiérrez
Cast: Verónica Sánchez, Macarena Gómez, Juan Sanz, Ruth Díaz, Nuria González, Aitor Merino, Estíbaliz Gabilondo, Jordi Vilches, Lluvia Rojo etc.
High-spirited comedy about the adventures of a naïve and virgin girl who flees to a decadent nightclub to escape her tyrannical mother. Madrid's club El Calentito, owned by a sassy transsexual, was a safe haven for all forms of sexuality in the oppressive climate of the Franco regime. Anything goes there, the vibe is both pansexual and punk rock. Sara finally finds a place where she can be her true self. Leaders of the local band Las Sioux, a lesbian singer Joan Jett lookalike Carmen and free-spirited Leo, invite Sara to join the band. But on the night of their performance something astonishing happens, the remaining members of the fascist regime stage a daring coup d'état. Will El Calentito survive the ensuing chaos? What will become of Las Sioux?
THX:

Brno: 31.10. – 20.30 – Art, big hall
Praha: 11.11. – 18.00 – Světozor, big hall