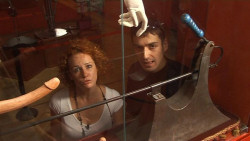 Fórum ČT - Q / Forum of the Czech TV - Q
Czech Republic 2007
CZ, 84 min, DVD
Writer: Janek Růžička etc.
Director: Janek Růžička, Radim Špaček etc.

Weekly TV magazine "Q" focuses on cultural, social and political issues through the point of view of the queer community. "Queer" means all uncommon, curious, strange, and extravagant. It includes people tendencies defy social standards represented by straight marriage . Is Q, the TV program, like this? What people the magazine represents? Is anybody queer in Czech Republic? The selection of episodes shows the year long journey of this program. The screening is followed by Q&A with the creators and the producers of the magazine.
THX:

Brno: 2.11. – 21.00 – Art, small hall
Praha: 10.11. – 18:30 – Světozor, small hall

Free admission