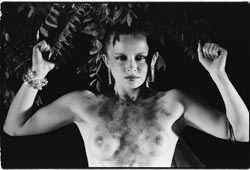 Madam X - absolutní vládkyně / Madame X - Eine absolute Herrscherin / Madame X - An Absolute Ruler
Germany 1977
DE + CZ tit., 141 min., 16 mm
Writer: Ulrike Ottinger
Director: Ulrike Ottinger
Cast: Tabea Blumenschein, Roswitha Janz, Yvonne Rainer, Claudia Skoda etc.
Unlike any adventure yarn one has seen before, this feminist lesbian pirate movie's objective is to reinterpret the genre and parody its conventions. The result is an unforgettable spectacle. Madame X, the self-proclaimed ruler of the China Sea, accompanied by her servant and occasional lover, Hoi-Sin, calls on the oppressed women of the world to leave behind their drudgery and cruise the high seas. The one-armed, leather attired Madame X – described by the ship's psychologist Karla Frued Goldman as "a charismatic personality consumed by narcissism, whose lust for power grows" – leads her motley group into both sexual and social exploration. A lesbian cult classic.

THX:


Brno: 1.11. – 20.30 – Bakala - programme change!
Praha: 8.11. – 21.00 – Světozor, big hall