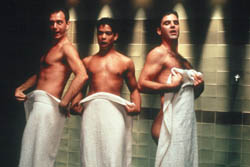 Pacient číslo nula / Zero Patience
Canada 1993
EN + CZ tit., 100 min., DVD
Writer:
John Greyson
Director:
John Greyson
Cast:
John Robinson, Normand Fauteux, Dianne Heatherington, Richardo Keens-Douglas, Bernard Behrens, Charlotte Boisjoli etc.
A timely and eccentric musical that serves up water ballet, dancing jungle animals and "singing bum" puppets to explore the politics of AIDS-scapegoating. A 170-year-old Victorian sexuologist and explorer is building a sensationalistic museum display about Patient Zero, the flight attendant accused of bringing AIDS to North America. There's only one hitch: the ghost of Patient Zero is back in town determined to stop the misrepresentation in the display. A chain-smoking African Green Monkey, the tiara-wearing Miss HIV and another AIDS pariahs join together, fighting back and refusing the blame.
THX:


Brno : 29.10. – 22.30 – Art, big hall
Praha : 8.11. – 18.00 – Světozor, big hall