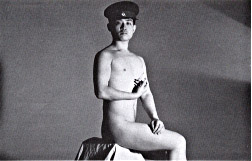 Pisoár / Urinal
Canada 1988
EN + CZ tit., 100 min., DVD
Writer: John Greyson
Director: John Greyson
Cast: Paul Bettis, Pauline Carey, Keltie Creed, Lance Eng, David Gonzales, Olivia Rojas, George Spelvin etc.
The dilemma of wash-room sex in Toronto. A mystery unnamed man conjures a circle of dead gay literary figures, including Sergei Eisenstein, Dorian Gray, Yukio Mishima, Frida Kahlo and Langston Hughes, to help him formulate a response to police crackdowns on gay sex venues in Toronto. The artists have seven days in which to report on the ethics of police tactics and infiltrate the police only to discover that they themselves are under surveillance as a political subversive group. The artists explore and report on the evolution of toilets and wash-room behaviour.
Best Gay Feature (Teddy Award): Berlin International Film Festival, 1989 
THX:


Brno: 30.10 – 18.00 – Art, big hall
Praha : 6.11. – 18.00 – Světozor, big hall