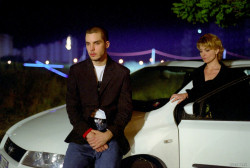 Plyn / Gas
Italy 2005
IT + CZ tit., 110 min., DVD

Writer: Alexandra La Capria + Luciano Melchionna
Director: Luciano Melchionna
Cast: Lorenzo Balducci, Francesco Venditti, Moran Atias, Sandro Giordano, Assimiliano Caprara, Paola Ranzoni, Loretta Goggi etc.
From unstable backgrounds, six young people, bonded through their common feelings of disenchantment and paralysed by their existential problems, are veritable time-bombs. Gradually sinking into a moral quagmire full of violence and humiliation, they kidnap a victim and take him into an abandoned building to vent their confused feelings on him through a series of sadistic games. Luca, however, is different. Emotionally struggling with his own secret he joined the group only recently having a special purpose: the revenge. But why and on whom...
Constructed like a thriller, with no linear chronology, this furious outcry against gaybashing is Italy's answer to Clockwork Orange and Trainspotting.

Brno: 28.10. – 18.00 – Art, big hall
Praha: 8.11. – 22.30 – Světozor, big hall