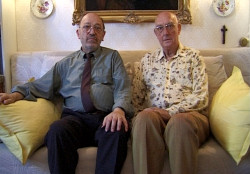 Sám mezi heteráky / Ich Kenn Keinem – Allein Unter Heteros / Talk Straight – The World of Rural Queers
Germany 2003
DE + CZ tit., 106 min., DVD

Writer: Jochen Hick
Director: Jochen Hick
Acceptance of gays isn't such a burning issue in German towns and cities. In the country, however, outdated ideas about what is and isn't normal and natural still dominate. Here, normal means husband wife and children. Hartmut, Richard, Stefan and Uwe are all gay men living in different country locations in Germany. Each of them has had to make peace with the fact that there are no other gays in the area and that challenging the unwillingness of fellow citizens to accept anything but a heterosexual orientation is a very difficult proposition. The documentary records not only the interesting testimony of the four men, but also those of their families and neighbours.
THX:


Brno: 31.10. – 18.30 – Art, big hall
Praha: 9.11. – 18.30 – Světozor, big hall