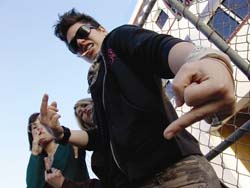 Výbor ťuťu ňuňu cecíků / Itty itty Titty Committee
USA 2007
EN + CZ tit., 87 min., DVD
Writer: Tina Mabry, Abigail Shafran
Director: Jamie Babbit
Cast: Melonie Diaz, Nicole Vicius, Melanie Mayron, Carly Pope, Daniela Sea, Guinevere Turner, Jenny Shimizu, Deak Evgenikos etc.
Dumped by her girlfriend, rejected from a college and wearing an A cup in the C cup world, Anna laments her life. Leaving work, she meets Sadie, the sexy leader of a radical punk-feminist group called the CIA (Clits in Action). Anna enters into this secretive world of eradicating phallo-centric & misogynic imagery, embarking on her first radical mission, feeling alive for the first time being the target of Sadie's flirtatious actions. After the CIA discovers that all of their acts have been co-opted or quickly undone they become and dismantle the group. Can Anna regain her friendships and resurrect the CIA with her brilliant idea? Another fabulous movie from the director of But I'm a Cheerleader.

Brno: 26.10. – 20.30 – Bakala – festival opening
Praha: 5.11. – 20.30 – Světozor, big hall – Prague opening