Diagnóza / Fabulosity, USA 2007

Tango Finlandia / Tango Finlandia, Finland 2006
Řekni ano! / Sag ja! / Say yes! Germany 2005
Opravdový poklad / Solid Gold, USA 2007
Dohodnutý sňatek dneška / Modern Day Arranged Marriage, USA 2006
Šťastlivec / Lucky Man, USA 2006
Psycho / Hitchcocked, USA 2006
---
Diagnóza / Fabulosity
USA 2007, EN + CZ tit., 5 min.
Director: John Godwin
A conservative couple find out their unborn son will have "Fabulosity".
THX:

---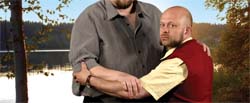 Tango Finlandia / Tango Finlandia
Finland 2006, 6 min.
Director: Hannu Lajunen & Tomi Riionhems
The Finnish tango is a sweaty and masculine form of sport.
THX:

---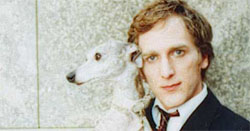 Řekni ano! / Sag ja! / Say Yes!
Germany 2005
DE + CZ tit., 16 min.
Director: Myriam Papantoniou
Tobias comes from a good family and is a successful businessman. He is also secretly gay. Living under the spell of his ignorant mother and likewise unaware girlfriend Kerstin, he is expected to make the latter a marriage proposal within the near future.
THX:

---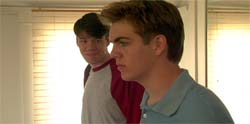 Opravdový poklad / Solid Gold
USA 2007
EN + CZ tit., 16 min.
Director: Paul Sbrizzi
In this dark comedy set in 1982, a fading porn star comes home to a hysterical phone message from the teenage boyfriend he cheated on. He tries to laugh it off, but experiences an unexpected sense of emptiness.
---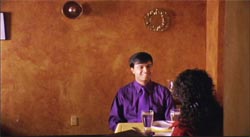 Dohodnutý sňatek dneška / Moder Day Arranged Marriage
USA 2006
EN + CZ tit., 5 min.
Director: Rehana Mirza
A restaurant, an agreement and the begining of a beautiful relationship. But all is not what it seems.



---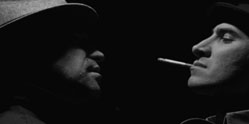 Šťastlivec / Lucky Man
USA 2006
EN + CZ tit., 6 min.
Director: Dan Falz
A hard drinking detective, on the tail of a killer, becomes involved in a dangerous cat and mouse chase that may expose his secret life.
---
Psycho / Hitchcocked
USA 2006
EN + CZ tit., 8 min.
Director: David M Young
Two hunky guys on an internet date end up in the shower together, but why is the muscly guy so keen on his razor collection?
---
Brno:
27.10. – 24.00 – Art, big hall
Praha:
5.11. – 18.30 – Světozor, small hall
7.11. – 16.00 – Světozor, small hall
11.11. – 18.30 – Světozor, small hall
Ozvěny Český Těšín: 21.11. – 18.00 – Central