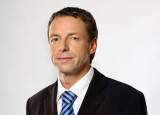 I accepted with pleasure the patronage of this year's annual festival MEZIPATRA that for the fifth time will visit our capital city with selected screenings. Every year the event notes a dynamic increase of audience in Prague as well as in its hometown of Brno and implants itself in the family of film festivals.
It is a unique project that assigns executive targets every year – to stir up a discussion, point out controversial themes and at the same time not to forget the educative mission.
The previous years have confirmed that the organizers can fulfill their ambitious plans and I believe that this year's festival MEZIPATRA will show that too.

MUDr. Pavel Bem, Mayor of the City of Prague